Fixation VR Camp:
Update 1: We are no longer offering Summer VR Camps.
Update 2: We are working on offering Spring Break and Summer day passes aimed towards the 12 – 16 age group.  Stay Tuned!   
If you wish to do a group outing for kids of any age, please contact us and we will work with you to customize an offering.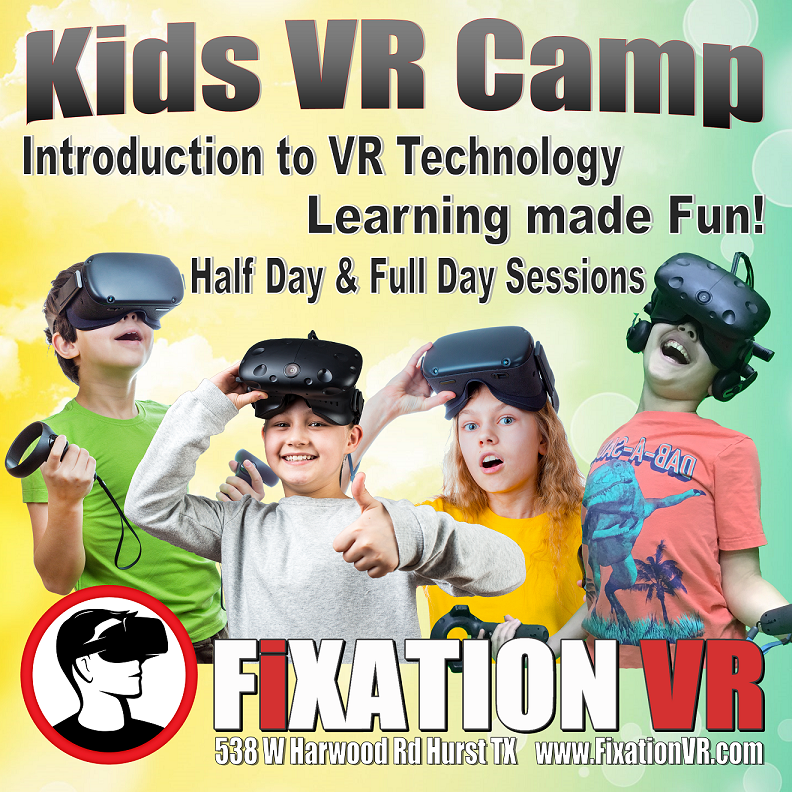 VR Camp is fun inside a video game!
VR provides natural physical social distancing while allowing campers to interact with each other inside the experiences. Our exciting, weekly Summer camp offers a unique immersive atmosphere, providing your kids with the ultimate amount of fun while still being active and sometimes educational! This program was created to offer a great kids a chance to experience a wide range of Virtual Reality that most would not be able to do. Don't miss out on the chance to sign up your kids for the coolest camp they have ever experienced!
Create Virtual Art
Solve puzzles and challenges
Play virtual Sports
Learn about science, biology and chemistry
Experience the future of gaming
Get insider tips, tricks and much more!
We aim to provide a balanced mix of educational VR, VR games, and VR activities
A glimpse of Educational Content we have available:
3D Organon Anatomy®
The world's first fully-featured virtual reality anatomy application. It is a multi-award winning immersive self-discovery experience into the human body. With 3D Organon you can manipulate bones, muscles, vessels, organs and other anatomical structures in an immersive 3D space. Examine structures from all angles, read/listen to anatomical terminology, and study definitions. Delve into body systems, peek under the skin, and see what you are made of.
ISS 360° TOUR
Takes you through a narrated tour of the International Space Station.
Apollo 17 – Moonbuggy VR:
A simulation of the Apollo 17 lunar rover exploration in virtual reality. Realistically recreated to give you a real sense of what it was like to be on the moon and explore these huge distances with the rover.
ROBOTICS IN VR
ROBOT ENGINEERING IN VR! A great tool for teaching robotics in virtual reality through the game
Become an inventor and expert in robotics! Build, program, play. Using VR plunge into the amazing world of virtual reality, where you can gain your skills in programming and designing robots.
Stanford Ocean Acidification experience:
This amazing experience allows your students to interact and see the effects of pollutants on our oceans and coral reefs.
Google Earth:
We will explore places all over the globe without once leaving the Arcade
OVERVIEW: a Walk Through the Universe
Allows you to zoom all the way from Earth to our galaxy and beyond, a free-roaming exploration of the eight planets that make up our neighborhood in space, along with hundreds of their moons and thousands of comets and asteroids
Coral Compass:
In this 360 experience, our students travel to Palau, a small island nation in Micronesia, home to coral reefs that draw visitors from around the globe. See and experience how Palau is adapting to climate change to combat its effects on their reefs and economy.
LyraVR
LyraVR is a music creation app that offers everyone a fun and unique music-making experience. Compose your music in 3D space with virtual reality. Experiment and play with your compositions like never before. Create intricate loops and hand place your sounds. Control, weave and sculpt music sequences with ease. Perform your creations in real-time and pioneer a radical new form of sound art.
Tilt Brush
Tilt Brush lets you paint in 3D space with virtual reality. Unleash your creativity with three-dimensional brush strokes, stars, light, and even fire. Your room is your canvas. Your palette is your imagination. The possibilities are endless.
Conductor
Conductor is a puzzle, action-adventure VR game. you'll have to take control of a locomotive and clear anything that stands in your way with the help of your gravity cannon. Solve puzzles by using tools and wit. Visit multiple stations, each with unique puzzles and challenges. Manipulate the environment and objects using the Gravity Cannon. Drive and maintain a Locomotive.
as well as many many more games and experiences that are age appropriate for our campers. We don't have a set schedule as we allow for flexibility to make sure each camper enjoys the experience. If something isn't enjoyable we move on to something else.
HOURS
Sunday
12pm - 9pm
Monday - Thurs
12pm - 9pm
Friday
12pm - 9pm
Saturday
10 am - 11pm
Pre-paid Bookings are guaranteed. We take walk-ins based on availability