Rent an Oculus Quest 2 Virtual Reality System for your Home!
Stuck at home? Looking for something New and Exciting to try?
The latest in standalone Virtual Reality technology
Just $99 for

2

 (3 for limited time) days of unlimited play
No wires or computer required
Pre-loaded with

fun games and

 Educational experiences
Systems are thoroughly disinfected between each rental
Setup is super easy, and we supply a helpful quick start guide.

Use "Book Now" button at the bottom of the page
to signup in the specialty VR Category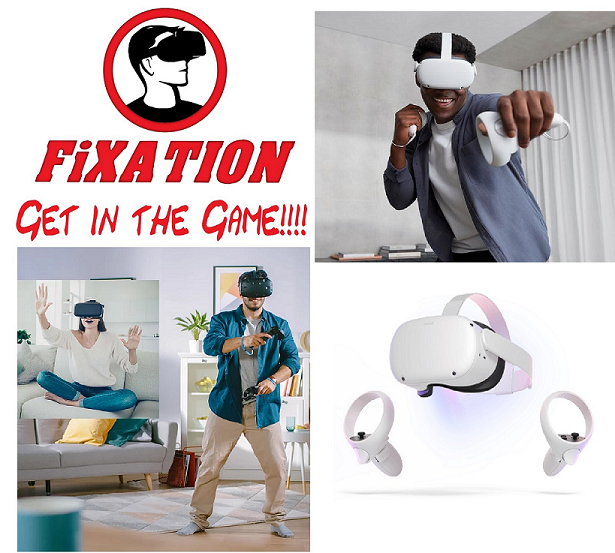 THINGS TO KNOW
Rentals can be picked up from Fixation VR and returned 48 hours later.
Comes pre-loaded with Games like Beat Saber, Fruit Ninja, Superhot, The Climb 2, Tetris Effect, and Cook-Out, a VR Escape Room: The Room VR and others.
Super Easy Setup, with remote support available
Credit Card and Government Issued ID required
No Computer is required
Suitable for kids and adults
Can be used with glasses!
Due to limited inventory, VR Rentals are non-refundable after you book.
How Does It Work?
How Does It Work?
Use the Online Booking system below to choose a start date. Provide some information and a credit card for payment, and you'll be all set.
Enjoy the system in the comfort of your own home

. They're suitable for kids and adults alike, and everyone will find a game or experience they'll love! It's not un-common for the system to be hogged by kids during the day, and then used by parents into the evening!
2 Full days of unlimited usage  Through 7/31/21 get an extra day rental complely free!
QUESTIONS
What Games and Apps are included?

We've chosen a selection of software that includes both fun and education.
What's included with my rental?
Everything needed to have a great time at home with Virtual Reality!
You'll receive an Oculus Quest 2 VR headset, 2 hand controllers (with spare batteries), and a charging cable. We also include an easy to follow Quick Start Guide and a list of the included games and expereinces.
Do I need a computer?
Nope! The Quest 2 is a standalone VR system, no other equipment is required. 
How long do I get the system for?
We want to make sure you have time to fully enjoy it, so we let you have it for 2 days. You can collect the system from Fixation VR by appointment, and then can return it 48 hours later.
‍
Who can use the VR System?
Almost anyone! We've successfully had kids as young as 6 use Quest headsets.
Is it hard to setup or use?
Not really. Most people are able to get it setup in a few minutes. We're available to help (remotely!) if you have any problems, but you probably won't.
Where should it be setup?
The best place is usually a living room, but it will work in most rooms in your home. You can use it seated, but most games and apps are best standing, so a 8 foot wide circle of space is a good idea.
How is the equipment delivered and cleaned?
We are obviously taking safety and health very seriously, so all the equipment is thoroughly dis-infected upon return to us.
‍
Can other people see what the player can see?
No we are unable to provide you with external viewing at this time.
I have other questions!
No problem! Email us at [email protected] and we'll help you out!
HOURS
We are happy to accomodate bookings outside normal hours when possible.  Please contact us for special requests
Pre-Book or Walk In Hours Mon, Tues & Thurs: 3-8pm   Fri - Sat: 12-10pm  Sunday: 12-8pm
Pre-Bookings have Guaranteed Space, Walk Ins are Space available